Understanding consumers is not an easy path because of the constant changes that may be in their minds. The different models of forecasts can give companies a close estimate of what the demand for their products might be, but having a 100% confidence in the model they have used insurance is impossible. Throughout the history of marketing has seen a change in how you should reach customers. Among the articles I read often came the one by Miklos Philips, Design for Emotion to Increase Engagement. In the I found a fragment that I liked to add it to my blog which I share.
Aesthetics and Perceived Usability
In the early 90s two Japanese researchers studied two different layouts of controls for ATMs. They were interested in finding out how aesthetics affected "perceived usability." All versions of the ATMs were identical in function, but some had less and some had more attractive interfaces. The researchers found that the ones with attractive interfaces were perceived to be easier to use, i.e. "they worked better."
Braun, a very successful design and manufacturing company founded nearly a 100 years ago in Germany was famous for its minimalist, elegant designs which captivated people. They were functional but also simple, refined, good-looking and consequently a joy to use.
Designs by Braun
Utilitarian designs that are simply functional and feature-rich do not please people. In this day and age they don't measure up and no longer satisfy customers.
"A basic design is always functional but a great one will also say something." – Tinker Hatfield, shoe designer, Nike.
The Emotional Design Pyramid
Human motivation is based on people seeking fulfillment and change through personal growth as stated in Maslow's hierarchy of needs, a theory in psychology proposed by Abraham Maslow in his 1943 paper "A Theory of Human Motivation." Maslow's pyramid of "self-actualization," and "self-transcendence" is a pattern that human motivations generally move through. Emotional design can be similarly put on a pyramid that illustrates its importance.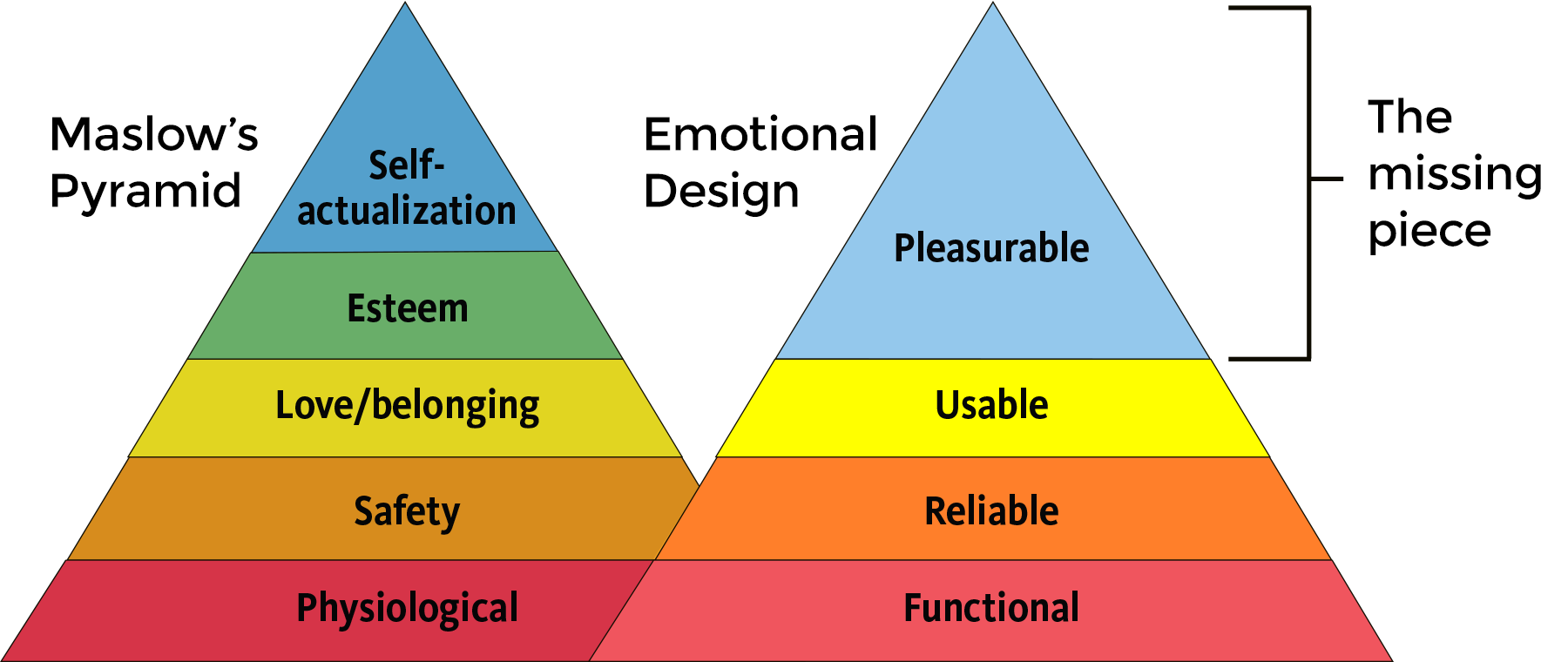 Functional and attractive things are actually perceived by people to "work better." As we saw earlier with the Japanese ATM experiment, a product's attractive aesthetic affected "perceived usability." Furthermore, products that include a pleasing aesthetic and anticipatory design can lead to such a degree of customer satisfaction, that people will forgive minor frustrations when encountering imperfections with those products.
Do we remember Blackberry and Nokia? Something rings a bell but they're pretty much history. Contrast their designs with the iPhone's or Samsung's people-pleasing slick designs.
Apple and Samsung mobile phones – smooth, slick, functional and attractive: emotional design
With the cases mentioned by Miklos, one can begin to analyze what it is that could sometimes move the client's will. In the example of smartphones, nowadays we may be less aware of what cell phones really are. Personally I use less traditional calls, and I communicate more using applications like Whatsapp. The functionality of a product in such competitive markets goes to second term and as it shows with the equivalence of the pyramid of Maslow, achieving that a pleasant emotion is generated is what has become a target for some companies.