I was searching on Google and watching some trends, I wondered if there are more inbound marketing certifications available for all those interested in developing their knowledge in this new methodology.
Below you can find the link to registrate for the certification in HubSpot Inbound Marketing, which so far is the most recognized certification.
http://academy.hubspot.com/certification
To give a little context about this post, I leave a small summary of inbound marketing.
Asking the experts about Inbound Marketing Certifications
I gave myself the task of going to one of the most used forums by experts in inbound marketing. Inbound.org is wonderful wite to ask questions and talk with people who are totally involved and know more about it. I made the question of whether there are more certifications in inbound marketing. Several members of the forum gave very assertive responses.
You can see the full thread here.
Among the most relevant links that I received in Inbound.org were the following list. There might not be fully focused on inbound marketing, but are digital marketing related.
What is Inbound Marketing?
According to Hubspot, its definition is the next one.
Sharing is caring and inbound is about creating and sharing content with the world. By creating content specifically designed to appeal to your dream customers, inbound attracts qualified prospects to your business and keeps them coming back for more.
The four inbound marketing actions
The methodology that has been created by Hubspot about inbound marketing is based in the following. siguiente.
Attract
Generate the attention of strangers who come for the first time to the site of the company by reading and watching the content being generated either on the blog, SEO optimization and the use of social networks.
Convert
Visitors who become constant need to be turned into subscribers through forms, or calls to actions of effective landing pages.
Close
To create more value for a business, the main objective is that subscribers generated become customers. It is important to follow them through email, phone calls or in store visits. The proccess can be easier with the use of various CRM, such as the CRM in the cloud or traditional one.
Delight
Finally, to generate customer loyalty is necessary to keep delighting them. It is a plus to be aware to generate something special for the customers to turn him into a promoters. To know what makes them feel better is an essential point. You will not need to have long surveys, at least but have a small feedback one.
Trends Inbound Marketing
In the world, the inbound marketing has an upward trend for several years now. Spain is who leads the searches worldwide, followed up by India and United States.
And the inbound marketing certifications?
Well, taking up the question about certifications in Inbound Marketing, I have not found somewhere else who provide any certification for free. Neither searches in Spanish nor English released desired results. Searches in second, third and other pages of the search engine did not showed up interesting pages.
When browsing various websites, only I found some agencies saying they certify in Inbound Marketing, but they just help to pass the HubSpot exman, and in addition to charging for the service! HubSpot certification is free.
As you can see, HubSpot has a very good web positioning. His work is very good SEO covering the first results in Google.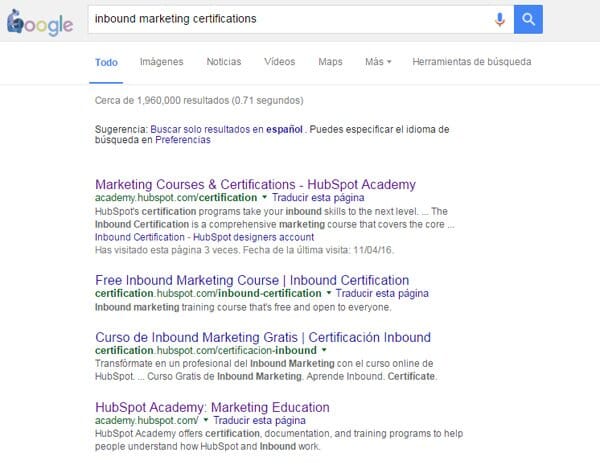 If the trend continues, surely more schools or specialized institutions will be implementing some certifications in inbound marketing. Surely there are, but the SEO strategy is clearly overshadowed by HubSpot. Those offering such services will probably start competing with SEM strategy.
If you know more inbound marketing certifications, don't hesitate to comment.
Also I leave you this list of 25 courses in social media marketing and digital marketing.: