Global companies are striving to improve every day. They have to work hard to become better whitin their market. Big Data Innovation is what enables business improvement by using the large amount of data being created every second. Innovation is needed to remain strongly competing against other companies. While small businesses use little or no use of data analysis tools, the big data for them is not impossible. Analytics tools like Twitter, Facebook, other social networks or Google are some that are easily to reach and easy to use, because they deal with all the data capture to deliver the insights. However, if small businesses want a better analysis of their company , they should look for software like Tableau or other options that will allow them to analyze the information.
To be more graphic, I have gathered five infographics that show how the big data innovation is present in the digital world and marketing.
What is Big Data?
Big Data is massive data sets that can be analyzed computationally to reveal patterns, trends and associations relating to human behaviour & interactions.
Social networks gather large amounts of data every second. Twitter has 500 million tweets a day. There are 40,000 Google searches per second. 41,000 Facebook posts by second and  3,600 images per second in Instagram. 100 hours of video are uploaded every minute on YouTube. Awesome! And that just only counting the social network data.
Some examples of how the world is changing by Big Data:
In 2012 was predicted that U.S. would win 108 medals at the olympics. They won 104.
Traffic lights are reacting to data from traffic conditions, weather and accidents.
By sending voice commands to Smartphones, the answers are generated with Big Data.
Online advertising is becoming more relevant and better directed with the use of data.
En 2012 Big Data was used to predict U.S. elections.
In health, it has been used to predict potential viruses.

Source: Blackvard
The value of big data innovation
Like every tool, big data has advantages that will add value to business. As in marketing, it exists the 4 P's, IBM gives the 4 V's of big data.
Volume
Velocity
Veracity
Variety
Should it be added one more? IBM mentions that IBM gives the possibility to obtain more value by having better analytics.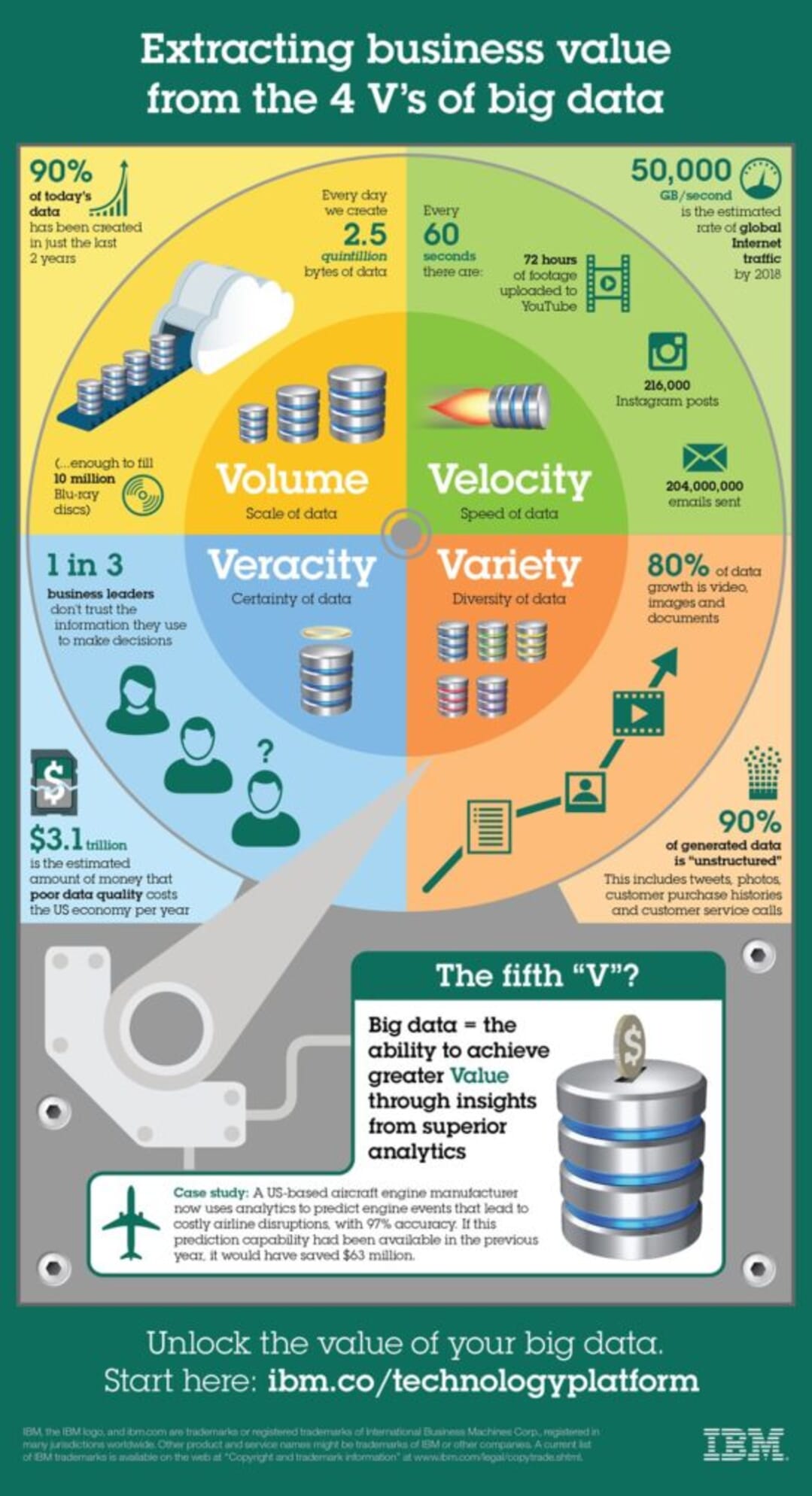 Source: IBM
Big Data y Analytics Trend
1. More sources of public data
2. Deep learning
3. Analytics in self service mode
4. Apache Spark, the open source Big Data platform, comes of age
5. Rich Data Analytics
6. Increase in use of unstructured data
7. Real time data processing
8. Social Platforms forcing maturity on analytics specialists
9. Quantifying the benefits of prediction
10. Data Science becoming critical to most functions

Fuente: Aureus Analytics
Exploiting Innovative technologies in Business Intelligence and Big Data Analytics
A survey made to 330 global business intelligence decision makers gave the next results.
75% uses Business Intelligence to better compete, 70% for make better decisions, 43% to meet internal reporting rquirements, but only 10% use them to analyze data and take decisions.
Companies that grew 15% or more per year report a greater Business Intelligence sucess.
81% of the companies have integrated Big Data with BI.
65% companies with better performance allow business users to build and deploy Business Intelligence.
75% uses Business Intelligence to create interactive visualizations.
Prediction analytics allow businesses to change from "sense and respond" to "predict and act".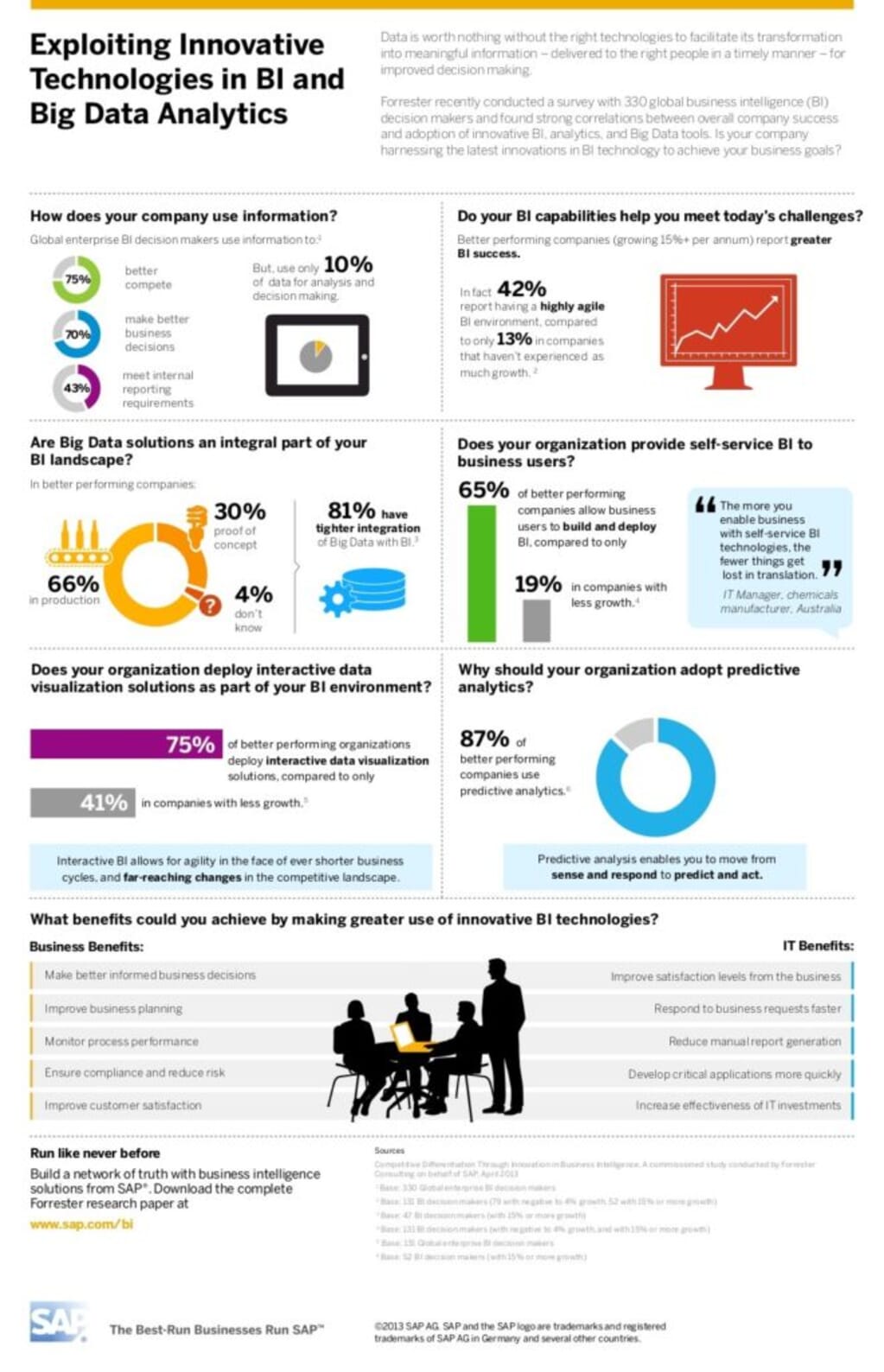 Fuente: Bicorner
Integrating Big Data and Market Research
The use of Big Data has a great relationship with marketing. This tool have been improving market research process. It has helped businesses to develop innovation in for new products and services. In the next infographic, it mentions key points for the relation between Big Data and Market Research.
1. Colect
2. Predict
3. Select
4. Focus
5. Scale
6. Revise

Fuente: Flex mr